((Sensing Mode)) Put your hand in front of the toy snake, and the toy snake starts to slide forward. When encountering an obstacle, the snake toy's eyes blink and automatically avoid the stuck place. This toy snake can flick its tongue and swing its tail. They move very fast and are great playmates for cats, which can also be used for chewing

((size))40 cm /15.74 in length.The pet toys are made of safe and Abs material, the surface of the snake body is highly simulated, smooth and burr-free, we recommend using it on smooth ground.Recommended for ages 6 and above.

((Realistic & More Fun))With 3d textures and bright colors, this snake toy looks realistic, with a segmented body ensuring excellent sliding action, and a high-wear tire design that is not easy to damage. More fun for pets and kids.

((Easy to Operate))It takes about 40 minutes to achieve full charging, and playing time is more than 15 minutes.When charging,the snakehead switch is off,and the snakehead light indicates that it is in charge.Turn on the S-type switch to make this toy start sliding, and it will enter the deactivated state after about 1 minute of continuous playing. Tap the head of snake toy to active it and enable it to move.

((High gift&cat toy))Cats end up with playmates, a fun trick prop toy for Halloween parties. A great gift or fun toy for kids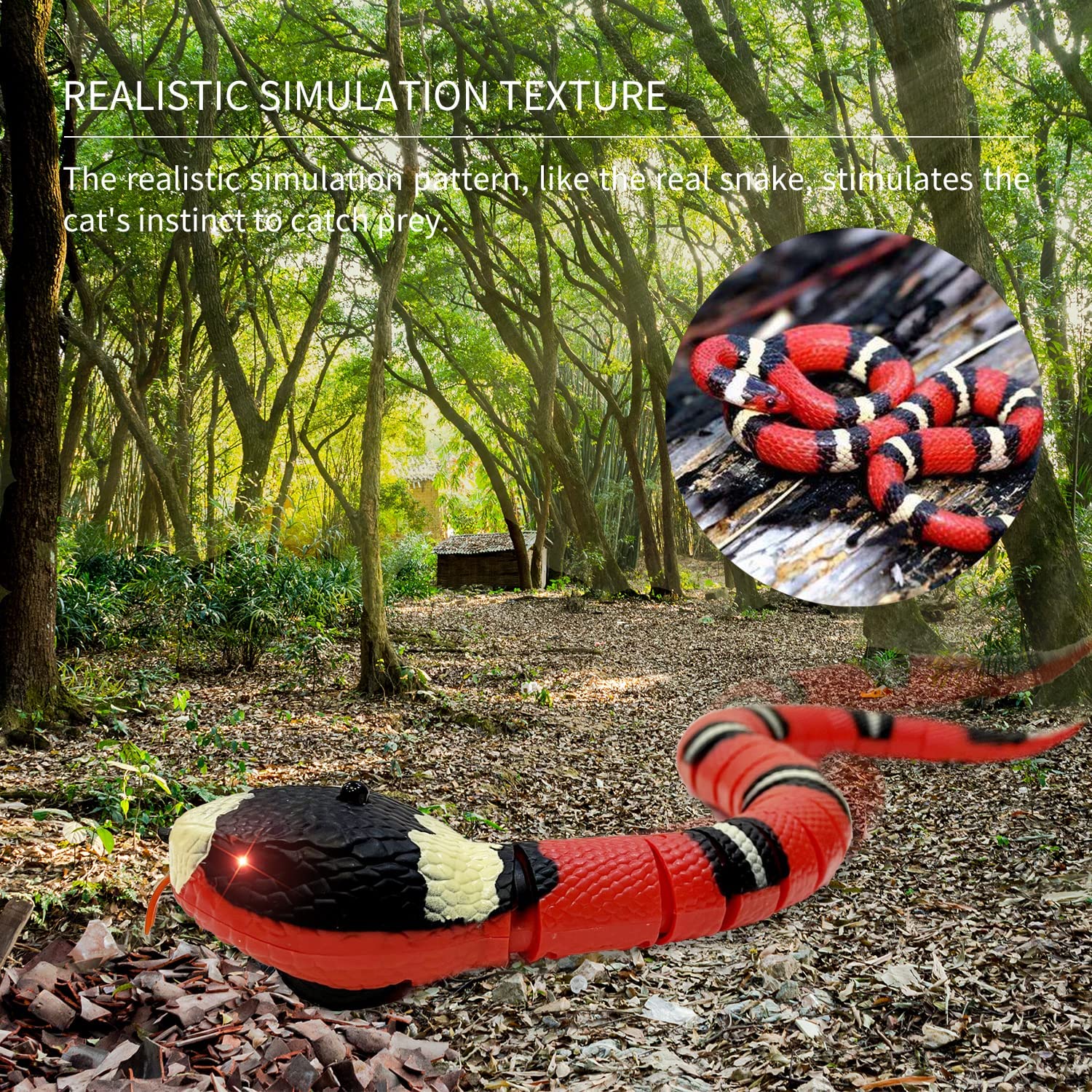 Turn on the switch,the snake moves forward in an S-shaped slithery movement.when it encounters obstacles,it will automatically back up,change direction and move onWhen you leave the snake to move freely ,it gets tired after about two minutes.It then goes into a sleep mode,when you pat on any part of the body,it will wake up and be readyto entertain you again.

Note:Charging needs to turn off the switch, connect the USB cable to the charging point ,the red LED should trun on to indicate that it is charging.

Smart Sensing Snake Toy features 3D texture and vibrant colors to interact with your cat or keep your children entertained.

Specifications: Name: Smart Sensing Snake Toy

Material: plastic + electronic components

Product size: about 40*4cm/15.74*1.57in

Packing size: about 7*3*2in

Charging mode: USB charging Charging time: ≥ 40 minutes Playing time: ≥ 15 minutes

Tip for charging: The charging time is about 40 minutes. Connect the USB to the charging port, and it means charging when the red light flashes

Age range: children (6 years old +)

Packing List: 1*Electric Simulation Snake Toy 1*USB Charging Cable

Notes: Due to the lighting effects and shooting angles, the color of the item and that shown in the picture might have a nuance. Due to manual measurement, there might be a tolerance in the product size.

Note: 1. Turn on the switch and you can move. If you can't move after 1 minute, please tap your head and restart

2. Charging needs to turn off the switch, connect the USB cable to the charging point ,the red LED should trun on to indicate that it is charging

Realistic Remote Control Snake Toy RC&Robot Snake Electric Snake Toy Fast Moving of Fake Rattlesnake Controller USB Rechargeable Christmas Joke Prank Snake Toy for Kids Boys pets robo alive snake. cutie cub tricky snake cat toy snake cat toy that moves tricky snake cat toy cat toy snake cutie cub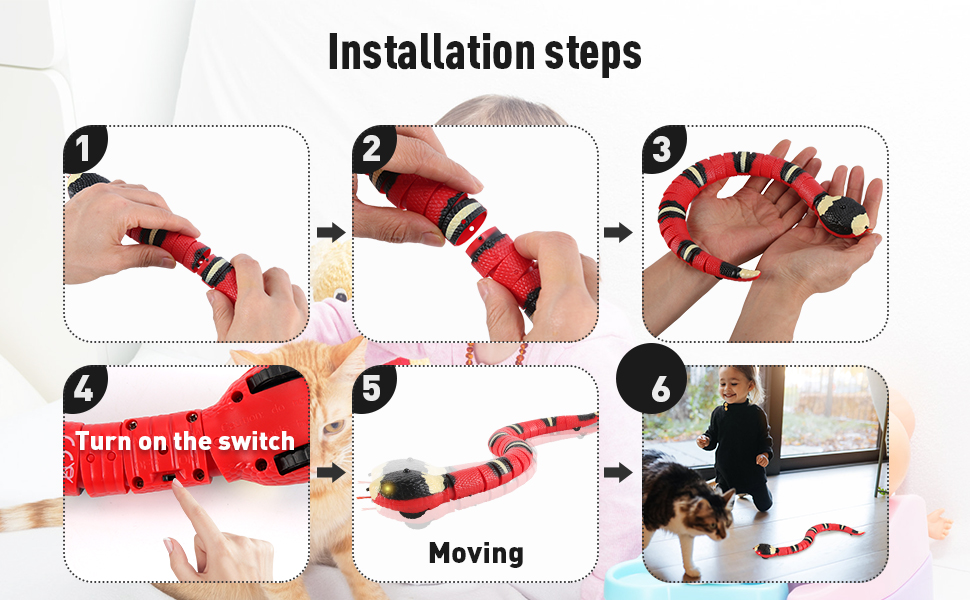 All cats end up with playmates
Smart Sensing Snake Toy features 3D texture and vibrant colors to interact with your cat or keep your children entertained.

All cats end up with playmates

The simulation of the infrared induction toy snake is so high that it makes your child or pet scream and excite.

With its realistic texture, glowing eyes and flexible body, it will scare your friends, family and even your pets.

This mischievous infrared sensor toy is also a great gift for children at parties, Halloween, Christmas or birthdays!

This sensor snake is the perfect gift for kids. No remote control, it's easy to play with,

All the cats and dogs love it. It must be fun for all cats.

Easter toys can also be put in baskets,

Children can take to play with friends, multiple snakes can play together, if afraid of a friend, you can scare him, is also a good prop for mischief

Halloween chirestmas party favors prank prop.