𝐌𝐨𝐭𝐢𝐨𝐧 𝐒𝐞𝐧𝐬𝐨𝐫 𝐋𝐢𝐠𝐡𝐭 𝐅𝐢𝐱𝐭𝐮𝐫𝐞𝐬: This under closet motion activated light will turn on automatically when the distance is less than 3-5M in the AUTO mode, and will turn off automatically after you have been away for approximately 18 seconds.
𝐑𝐞𝐜𝐡𝐚𝐫𝐠𝐞𝐚𝐛𝐥𝐞 & 𝐄𝐧𝐞𝐫𝐠𝐲 𝐒𝐚𝐯𝐢𝐧𝐠: This night lighting (9.06inch) has a large capacity 1500mAh battery and uses 74 LED beads to provide enough brightness to save energy compared to other lights, helping you to save more money. it can be used for about 2-3 months in AUTO mode and can be charged via USB cable (included).
𝐄𝐚𝐬𝐲 𝐭𝐨 𝐈𝐧𝐬𝐭𝐚𝐥𝐥: This under closet light has a built-in magnet that allows you to mount the light on any surface such as wood, marble and walls. With the included single-sided iron sheet, you can attach the light bar wherever you want. Anyone can install it, and the wireless design makes it easy to remove it and take it away.
𝐃𝐢𝐦𝐦𝐚𝐛𝐥𝐞: This LED light has three operating modes: ON to stay on constantly, AUTO1 motion & light-sensitive mode, which monitors motion day and night, and AUTO2 single degree motion sensing mode, which is only monitoring human motion at night. Short press the function button next to the sensing probe twice to adjust the colour temperature from 3000k-6500k, long press to adjust the brightness from 10%-100% and press once to switch off the power.
𝐖𝐢𝐝𝐞 𝐀𝐩𝐩𝐥𝐢𝐜𝐚𝐭𝐢𝐨𝐧: Motion sensor light is ideal for use in kitchens, wardrobes, counters, desks, stairs, hallways and other indoor applications. Has outstanding quality, and we will offer you a 1-year guarantee to make your order without worry. If you have any questions please don't hesitate to contact customer service for help!
A variety of lighting modes: 1. Single click - always on mode 2. Double click - human body mode 3. Triple click - light off mode 4. Long press - change color tone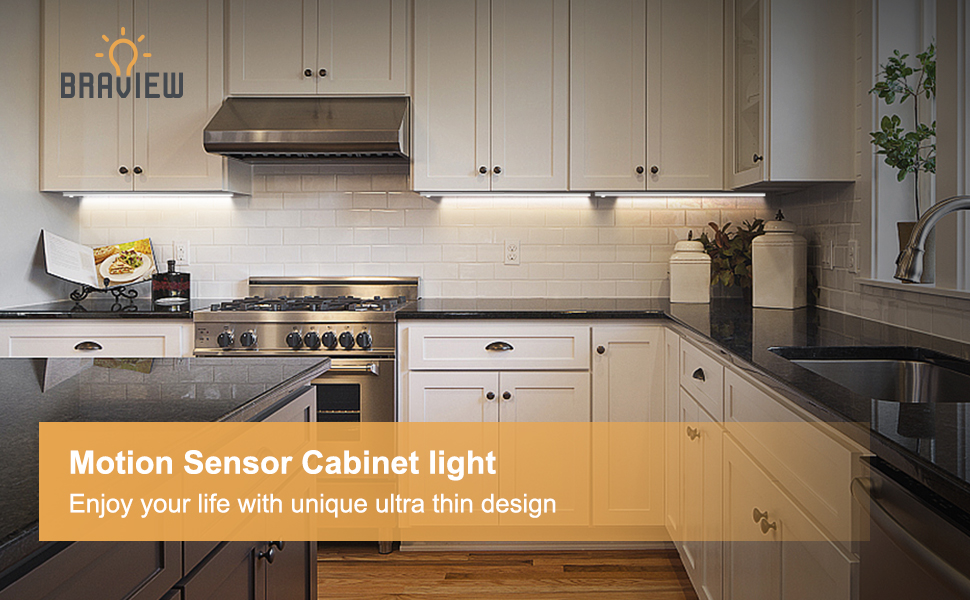 Under Cabinet Light with Motion Activated and Light Sensitive Function, Ultra Thin Design is perfect for your Modern Home, wireless night light allows you to stick it on anywhere you need like bedroom, kitchen, closet, wardrobe, cabinet, hallway, stairs, counter, etc.