【UNIQUE GARDEN DECORATIVE LIGHTS】Warm white LEDs are hung on delicate copper wires, creates a unique focal point in your dark garden, as if a watering can is pouring a stream of bright stars. The slightest breeze is blowing and the magical and beautiful visual effects create a romantic atmosphere, makes your garden unique.
【WATERPROOF & SAFETY】The durable waterproof solar light is made of high-quality thick iron sheet adopting dustproof and rustproof treatment. IP65 Waterproof rating, perfect for outdoor use, even in bad weather such as rain, snow, frost or sleet, you don't worry about the watering can art light being short-circuited by the weather.
【INTELLIGENT LIGHT CONTROL】Turn on the switch before the first use, then the outdoor solar fairy lights will automatically turn on at night, no need for any more operation, which is smart and convenient. With an automatic sensor, the solar lantern will automatically turn on at night and off during the day. It can be used for about 8-10 hours after charging for 6-8 hours.
【EASY INSTALLATION】Solar watering can has four splicing levers, each iron rod is combined by rotation, and the length is freely adjusted: 0-80cm/31.5in, in order to adapt to the modeling needs of different scenes. No wiring or external electricity is required which is convenient and saves your energy cost.
【WIDE APPLICATION】Our Watering Can Light is good for atmosphere creation or lighting shows, put on trees, flowers, yards, porch, balcony, wall, walkways, pool, anywhere indoor or outdoor usage of lighting decorations. It is also perfect as gifts for Thanksgiving, Christmas, weddings, birthday parties.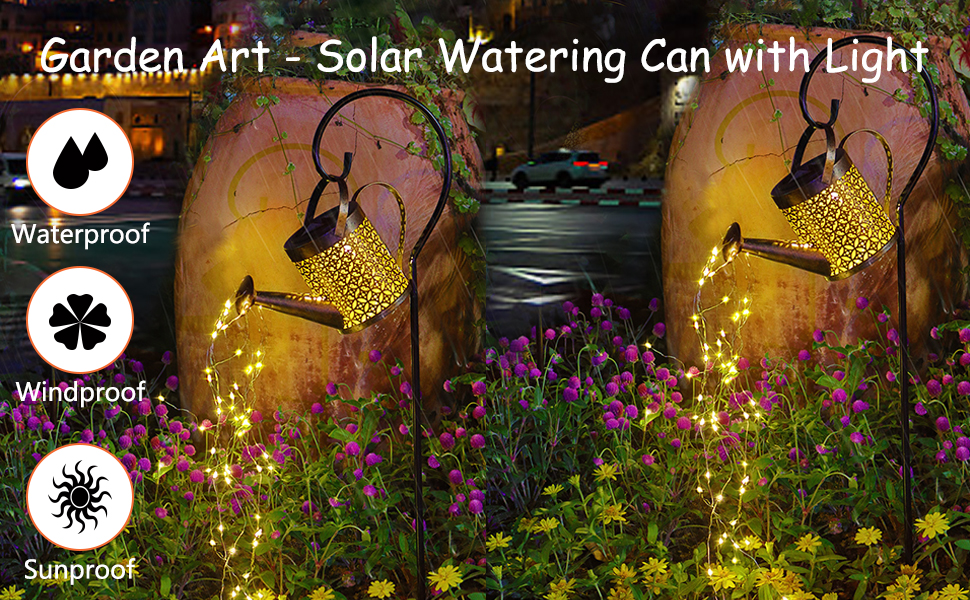 Why Choose Our Decorative Retro Metal Solar Lights?
1. Unique watering can design, with hollow carvings on the iron kettle body, warm white light can project charming patterns at night.
2. High-quality metal, waterproof and rust-proof, solid structure and not easy to break, suitable for any weather conditions outdoors.
3. This Garden Solar Lights are 100% solar powered, and built-in light sensors ensure they automatically turn on at night and turn off at dawn.
4. More efficient solar panels, longer lighting time!

Specifications:
Material: Metal Iron
LED Color: Warm white
Solar panel: 2V, 100mA
Battery: 1.2v 600MAh
Working Time: 8-10 Hours
Charging time: ≥6 H (full of direct sunlight)
Protection Level: IP65
Bracket Size: 80cm/31.5inch
Watering Can Size: 22x16cm/8.7*6.3inch
Total weight: 1.25 pounds